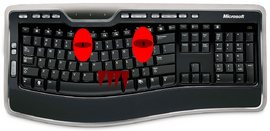 Evil Keyboards are minions of the
Typo Fairy
, planted in the
real-life
homes of Route 50 members for her own amusement. An evil keyboard is one whose keys have been corrupted by the Typo Fairy's evil witchcraft, causing them to malfunction or create typos. The most commonly corrupted key on an Evil Keyboard is the Enter key.
Notable Evil Keyboards
Frosti's old keyboard (affected keys included K, I, and comma)
ShadowSceptile's keyboard (All keys affected?)
an TV Internet keyboard in a hotel which Sparkleaf once spent a weekend at which caused him to double-post in the chatbox (though he was unable to view this for some reason)
Sparkleaf's old AlphaSmart, a portable keyboard (down key affected)
Ryu's keyboard ("GOD WHY DO YOU HAVE TO BE BROKEN ALL THE TIME, KEYBARED?")
Takoshi's keyboard (Capslock key affected, though this may be the product of GLaDOS)
Pope's keyboard (Enter key and Capslock key affected)
Twill's iPhone keypad thingy (Enter key affected)
Lexideth's laptop keyboard (All keys affected, but at random)
Moon's keyboard
Pokey`s laptop keyboard (Colon and apostrophe keys are dead) No longer an issue, laptop is completely broken (New laptop! No longer an issue.)
Twiggy's keyboard - Repeats posts
Pokey's Kindle Fire HD - Spellchecks words to death, repeats words, removes spaces... It gets worse when connected to its charger, which scrambles the touchscreen. "DO NOT!! DIDDLE!!! THE KNIFE!!!!"
Atar's mom's iPhone thing - All the buttons are super tiny and are really quite stupid
thekingofpillowland's Tablet keyboard - causes puppy holocausts when he isn't using it.
They are abominations, and must be DE-STROYYYYED!