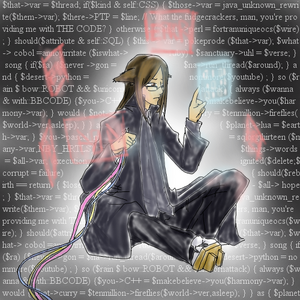 "FILE A TICKET"
Navarr is a developer of Route 50 who has been with the site since EHQ v1. He was known for a variety of highly eccentric habits.
Reputation
Navarr would often smack people who made bad jokes, alter members' names at random, gnaw on innocent bystanders, and lurk invisibly in the chat while working with the coding. He was particularly known for fiercely demanding tickets.As an admin, Navarr was known to throw a moderator or two down a well for neglecting to file error tickets, to be present in chat, or other issues. He would often be tasered by Kat (sometimes as a restraining order, sometimes as to motivate him to work), who sometimes replaced him with a cardboard replica.
In real life, he is married and has one child.
As a Pokemon Breeder
See also: Navarr's Closet
Navarr is also infamous as a Routemon Breeder. In the spirit of fandom shippers, he throws two members into a closet and "mysteriously" acquires an egg in the process.
Contributions
Chat
Tracking system
Oekaki (drawing, retouching)
Galleries (back-end)
Polls (back-end)
Account Panel
Base Style/Widget Manager/Styler
Mod Panel
Mail
Groups
Cooltrainer Payment Processing
Took care of the defunct SMS Notification system, which was the source of a fuckload of errors
History
Once upon a time, Navarr (then known as PokeSensei) worked on a project called PokeQuesT, and was introduced to Kat and Eevee's HQ v1 through affiliation. After some time, Navarr was somehow roped into site development, which he played an active role in until "falling off the bandwagon" at some unspecified time during the v2 era.
During the last months before Route 50's release, Navarr once again returned as a site admin, helping Kat to complete the site in time for launch, with Navarr coding the back-end and Kat the front-end. He created a number of key features, including the chatrooms, Cooltrainer status, and the 2012 style.
Navarr was let go from the staff in winter of 2012, along with Lec. However, he was reinstated as a site developer in fall of 2015.